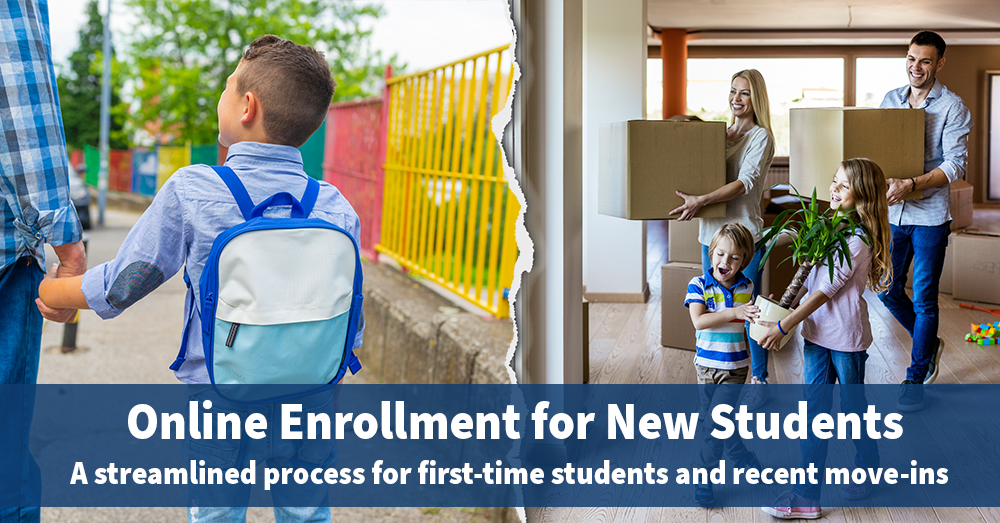 Are you looking to enroll a child in one of our schools — now, or for the coming year
Canyons School District has launched an online enrollment portal to assist families in registering new students during the COVID-19 pandemic so they can take advantage of the at-home instruction being provided throughout the "soft closure" of our schools. Traditionally, students who are new to Canyons have had to register in person so they can provide verifiable copies of their birth certificate along with other required documentation.
Now, to streamline the process, the District has created a way for families to scan and preliminarily submit those documents online. The online tool is available to all those enrolling in Canyons for the first time, whether they've recently relocated here and need to enroll in classes immediately, or they're a toddler preparing for "big kid school" in the fall.
If your child will be 5 years old before September 2, 2020, it is time to register for kindergarten.
Here is an informational video https://youtu.be/7oePyvO4sck. 
Follow this link to register online. 
English Online Registration Link https://forms.gle/57RyrwCRSLyxDHvYA 
Spanish Online Registration Link https://forms.gle/RCHab1ReeeiPvvsH9
East Midvale library books can be returned between 11:30-12:30 pm next week to a drop box in front of the school.
On Friday May 1 between 10 and 11 am, East Midvale teachers will have a car parade through the community. See route map.  
The Mobile Food Pantry will be at East Midvale Elementary on Tuesday May 5 from 11:30-12:30 pm.
The Wellness Bus comes to Mid Valley Health Clinic (8446 S. Harrison St) on FRIDAYS from 12-4 pm.  No-cost testing for COVID-19.  Anyone experiencing any of the symptoms – fever, cough or shortness of breath – or in contact with another who had tested positive is asked to come be tested.  Appointment is preferred (801-747-9547) but you can come without one, preferably in a car for drive-thru testing.
And finally, congratulations Becky Glover, Canyons District Outstanding Para-Educator!