PTA COIN DRIVE collected $3,254.00 – exceeding the $3,000 goal!  Thank you parents for supporting your students as they collected funds.  This money is used to support teachers, school events and classroom needs.  Ms. Considine's 2nd grade class raised the most money and silly string-ed Mr. Nelson! See our website for pictures of the Fun Run!
TEACHER APPRECIATION WEEK is next week May 2-6.  Please help us thank our teachers for all that they do to support student learning and growth!  East Midvale has the best teachers!!
MOBILE FOOD PANTRY and FARMERS MARKET Tuesday May 3.  Fresh fruit and vegetables for families to choose from at no cost.  Provided through a partnership with Get Healthy Utah and Kuwahara Farms.  2:30 pm.  Please come.
ALL PRO DADS Wednesday May 11 at 7:30 am –  RSVP on Parent Square post or let Ms. McCall know.
YEAR END ASSESSMENTS will be happening in the first two weeks of May.  Students can perform their best on tests when they are well rested and have eaten good breakfasts.
SAVE THE DATES FOR SCHOOL YEAR END:
Tuesday May 17 – Dance Team  recital at 4:00 pm
Friday May 20 – Last day of Kindergarten and Kindergarten Graduation
Monday May 23 – Awards Ceremony and Preschool Water Party
Tuesday May 24 – All School Field Days and Preschool graduation
Wednesday May 25 – 5th grade year end celebration party 1:30 pm
Thursday May 26 – Last Day of School and Dance Party


COMMUNITY RESOURCES:
GIVE KIDS A SMILE event on Friday May 6 9:00-4:00 pm – Children under 18 get free dental screenings and cleaning.  Voucher available to return for FREE full exam, x-rays, sealants and up to $100 in additional care.  Roseman Dental, 10894 S. River Front Pkwy South Jordan, UT 84095
FOOD FOR UTAH FAMILIES:  Food, clothing and diaper distribution every Thursday from 6:00-8:00 pm at Calvary Salt Lake at 460 West Century Drive (4350 S.) SLC, Utah 84123.  Drive through to receive several boxes of fresh fruit, vegetables, perishable and non-perishable food items.
Thank you Jacobsen Construction for the completion of our Welcome mural from Day of Caring 2022!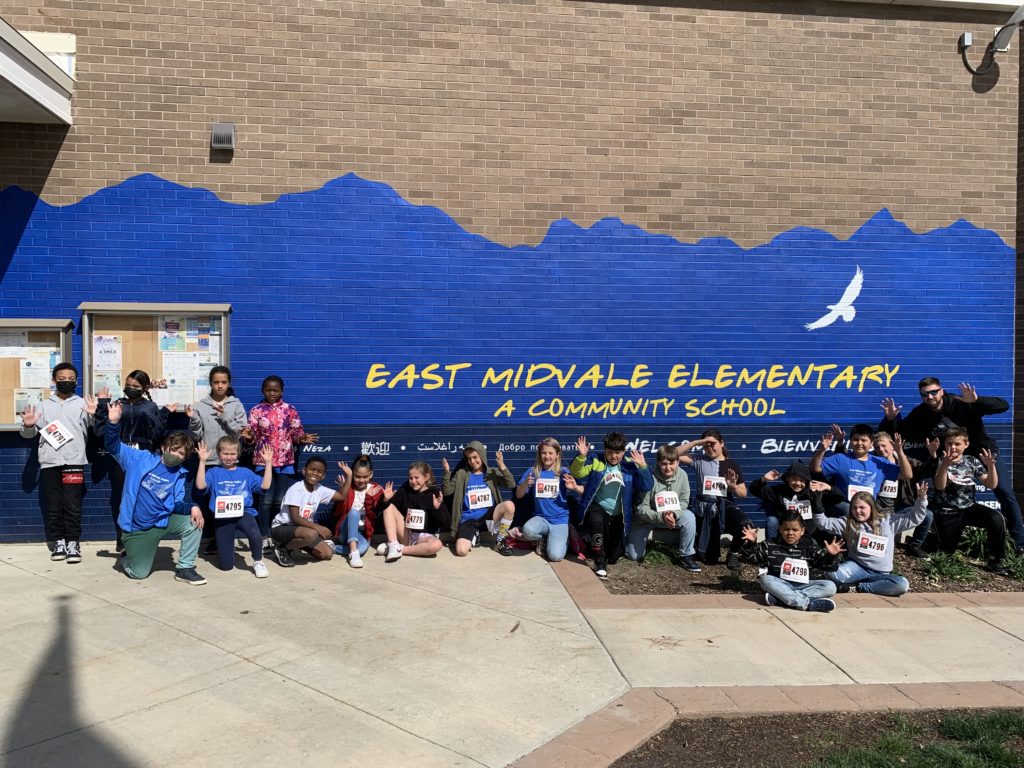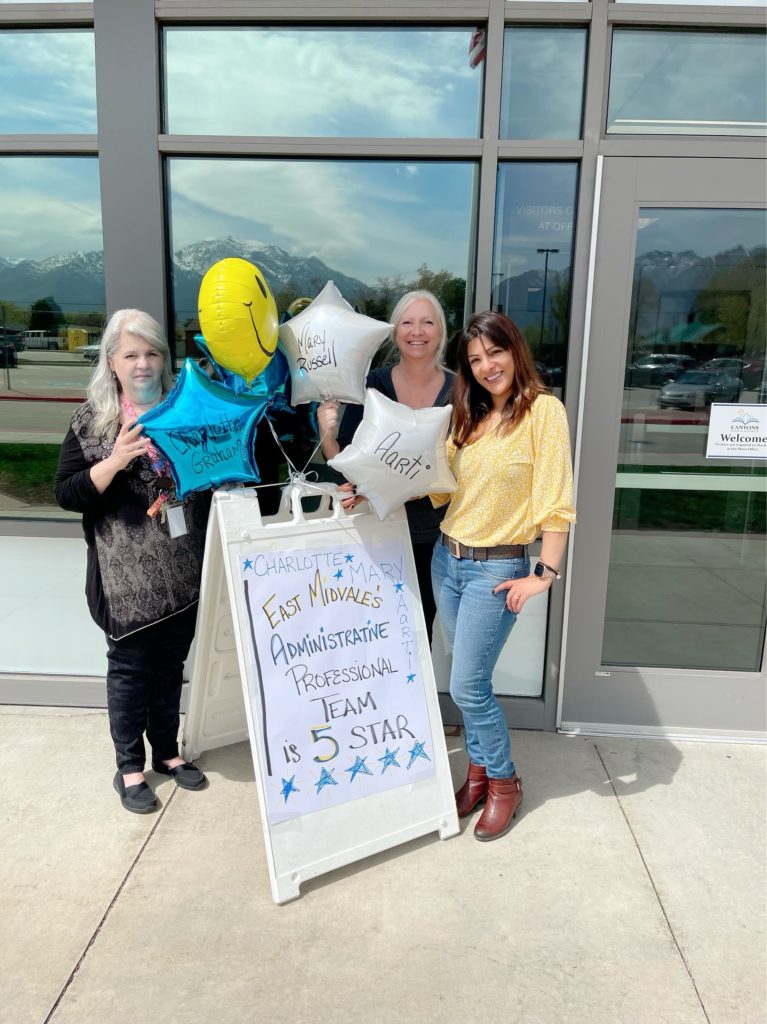 Happy Administrative Professional Day! East Midvale is so grateful to have Charlotte, Mary and Aarti in our front office welcoming families and taking care of students!