East Midvale Eagles SOAR!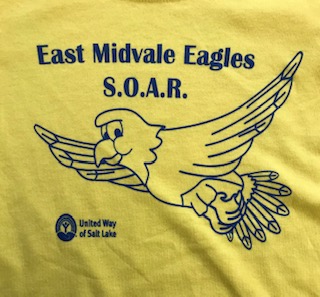 Thank you to United Way of Salt Lake for partnering with EME on our new PBIS program and funding these cool t-shirts!
Food Pantries this week
Monday Oct. 5 at 11:00 am at Mountain View Christian Assembly 300 E. 8000 S. Sandy Utah
Tuesday Oct. 6 at 2:45 at East Midvale Elementary.  
No in-person or online school on Fridays.  Canyons District is transitioning to a blended model of learning beginning this week.  Fridays will be an independent learning day for all students.  We will send work packets and other learning tools for students to complete at home on Fridays.   In addition, on Thursdays, students will be sent home with a lunch and breakfast sack for Friday.

Eagles S.O.A.R. – Every student at East Midvale can soar and all students received yellow t-shirts last week to promote that idea!  United  Way of Salt Lake funded these shirts in support of  S.O.A.R. – a positive behavior program which teaches these skills
S = Self Management
O = Ownership
A = Acceptance
R = Resilience
Parent Square invitations were sent out last week.  Parent Square is a communication platform that East Midvale Elementary has put into place.  It translates teacher and school communications into preferred home  languages.  As a parent you do not need to download the app but if you do, you have the ability to download pictures and files and to set preferences to receive communication via text or email or both.  As a school we want parents to be as involved and engaged in the students' learning as possible.
The PTA fundraiser exceeded their goal of $500 – thank you to the community for support and pictures with Eddie!  PTA is continuing to accept donations and pictures with Eddie will continue to be posted.
PTA Reflections contest entries due Oct. 14.  Theme is "I MATTER BECAUSE".  Entry categories are Dance/Choreography, Film Production, Literature, Music composition, Photography and Visual Arts.  All students participating will be recognized.  Reflections Entry Form
Are you struggling to make rent?  Follow this link for support Rent Relief
2nd Step - Social Emotional Learning Tips of the Week: 
Kindergarten and 1st Graders are learning that repeating directions to oneself helps one remember what to do. 
Repeat the directions to myself. 
Grades 2-5th are learning to recognize bullying and that that is the first step to stopping it.
Clues that help you recognize bullying:
 Bullying happens on purpose.
 It is unfair and one-sided. 
You haven't been able to make it stop.