FOOD BOXES AVAILABLE – A holiday box of food is available for pick up at Sandy Elementary on Monday November 21 from 7:30 am -5:30 pm on a first come first served basis.  Included are non-perishable items for Thanksgiving dinner and a gift card to purchase a meat of your choice.   Pick up address is 8725 S. 280 E. Sandy Utah 84070.
THANKSGIVING RECESS is Wednesday November 23-Friday November 25.  No school.  Enjoy the holiday.  
THANK YOU to Thanksgiving Heroes, Teachers for Hope, Utah Food Bank and Five12 for food resources this holiday season.  Thank you to the Assistance League of Salt Lake and Jordan Credit Union for clothing and shoe resources. Thank you to our wonderful community of parents for entrusting our school faculty and staff each day to teach and nurture your children.  
INSIDE MORNINGS – Winter weather is here, and with it, there are lots of questions regarding our procedures regarding cold weather concerns.  Students are expected to wait outside in the morning and go outside to recess throughout the day unless: the air quality is poor, if the temperature feels like it is below 22 degrees Fahrenheit, or if the precipitation is such that students will get soaked if they stay outside.   If administration calls an inside morning, we open the hallway doors and have students go right to class when the bus arrives or they are dropped off.  If you need to bring your student to school at 7:30 am consistently, there are openings in our morning program.  Contact Ms. Pua if interested.  
SAVE THE DATES:
Tues. Dec. 6 – Mobile Food Pantry
Wed. Dec. 7 – All Pro Dads breakfast meeting – focus topic is Generosity
Tues. Dec. 13 – PTA Spirit Night at Wendy's in Midvale 6:30-9:00 pm
Wed. Dec. 14 – Vivint Gives Back day!
Fri. Dec. 16 – Holiday Performance for Parents and School Sing-a-long and parties for students
Dec. 19-30 – Winter Recess.  No school
JOBS AVAILABLE at East Midvale – Come join our team!  
Student Mentor working in classrooms and supporting students.  Part time.  Student Mentor Job
Recess Aide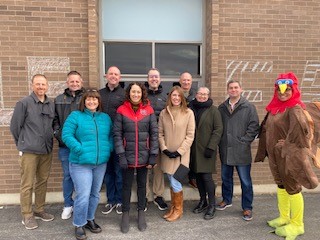 Thank you to Zions Bank for sponsoring our prizes!
12 turkeys

12 pies

12 bags of fresh fruit
And lots of cheering for our students as they ran the course!